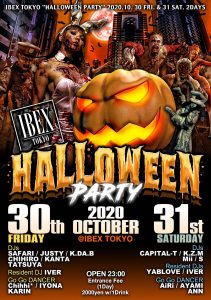 IBEX-TOKYO HALLOWEEN PARTY 2020!!
The Hottest party of the Year!!
IBEX-TOKYO will be hosting the hottest halloween party in town.
Get dressed up in your purest saintly attire of your sexiest sinful apparel, and get ready for IBEX-TOKYO Halloween Bash.
Djs spinning sets of the best Hip-Hop, Trap, Dancehall, AfroBeats, Soca n' all good Music……
☆☆ October 30th Friday
*Open: 22:00~
*Entrance : ¥2,000 / 1Drink
*DJs
SAFARI / JUSTY / K.DA.B / IVER  (ibex Tokyo)  / CHIHiRO /  KANTA / TATSUYA……
* Dancers:~
Chihhi / Iyona / Karin and more ……
☆☆ October 31st
*Open : 22:00~
*Entrance : ¥2,000/1Drink
*Residents DJs
    YABLOVE / IVER
*DJs
CAPITAL-T / KZM / MII / S and More….
* Dancers:~
    AIRI / AYAMI / ANN aka BadKitten……
Don't Miss this enticing opportunity to experience halloween in a way that you've never imagined.
                        -IBEX TOKYO-
♦web: www.ibex-tokyo.net
♦Tel: +81337461075
♦Facebook: IBEX-TOKYO
♦Instagram: IbexTokyo_Official
♦twitter:   @IBEX_TOKYO
♦Address: 5F 21Taimei bldg minato-ku
       roppongi 3-11-6 Tokyo.
♦contact: http://ibex-tokyo.net/contacts/
#hiphop #trap #reggae #dancehall #reggaeton #soca #afrobeats #roppongi #nightclub #tokyo #clubbers #nightlife #japanesegirls #instagram #goodvibes #instagood #goodmusic #goodassjob #djlife #best #partygirl #nightclublife #tourist #asiangirls #international #people #六本木 #ナイトクラブ #東京