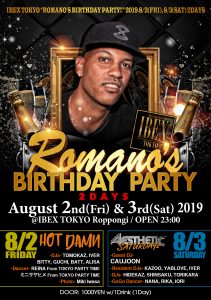 ▪IBEX-TOKYO Throwing 2 Dayz Party for ROMANO's Birthday…….
Check Your Calendar, Hold The Date and Join Us as We Celebrate.
    You're all invited!!!!
    ▪8/2nd (fri) "HOTDAMN"
    ▪Open:~23:00~
▪Entrance:~¥1,000 / 1Drink
    ▪Djs:~ TOMOKAZ / IVER / BITTY / GUCHI / BATT /        ALISA  more…..
    ▪Dancers:~ REINA / ミニサヤヒメ
▪Photo by MIKI IWASA
    ▪8/3rd (sat) "AESTHETIC SATURDAYz"
    ▪Guest Dj:~ CAUJOON (from Nagoya)
    ▪Djs:~ KAZOO / YABLOVE / IVER / HIDEKAZ / SHINSAKU / TORIKARA and more……
♦web: www.ibex-tokyo.net
♦Tel: +81337461075
♦Facebook: IBEX-TOKYO
♦Instagram: IbexTokyo_Official
♦twitter:   @IBEX_TOKYO
♦Address: 5F 21Taimei bldg minato-ku
       roppongi 3-11-6 Tokyo.
♦contact: http://ibex-tokyo.net/contacts/