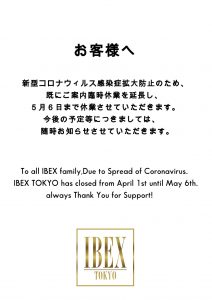 To All Ibex Tokyo's Family, Due to Spread of Coronavirus … Ibex Tokyo has closed from April 1st until may 6th. Always Thank You for Your Support!!
新型コロナウイルス感染症拡大防止のため、既にご案内させていただいている臨時休業を延長し、5月6日まで休業させていただくことにしました。今後の予定につきましては、随時お知らせいたします。どうぞよろしくお願いします。
We hope that this situation will end as soon as possible and that the day when you can Party with us again will come soon. We wish for everyone's continued health.