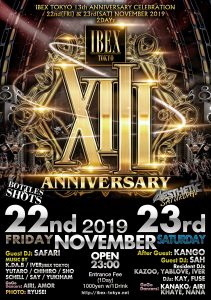 ◤IBEX TOKYO 13th
           ANNIVERSARY PARTY◢
The people choice IBEX-TOKYO is doing it up for It's 13th ANNIVERSARY Party on Friday November 22nd and Saturday November 23rd.
👉👉BOTTLES & SHOTS👇👇
♦Friday Nov 22nd
♦Guest Dj: SAFARI
♦Djs: K.DA.B / IVER /  YUTARO /
         CHIHIRO / SHO / SCHELL /
         SAY / YUKIHAM and More…..
♦Dancers: AIRI / AMOR
♦Photo : RYUSEI
👉👉AESTHETIC SATURDAYz 👇👇
♦Saturday Nov 23rd
♦Guest Djs: KANGO / SAH
♦Djs: KAZOO/ YABLOVE / IVER / KAY /
        FUSE and More……
♦Dancers: KANAKO / AIRI / KHAYE /
                 NANA and more……
▪We would like to thank you for all your support for the past 13 years!!
         👇👇👇👇👇👇👇👇
                 ♦♦IBEX TOKYO♦♦
       21Taimei bld 5F roppongi 3-11-6
           minato ku           
      tel: +81 3 3746 1075
      web: www.ibex-tokyo.net
      mail: info@ibex-tokyo.net
      insta: IbexTokyo_Official
      twitter: IBEX_TOKYO