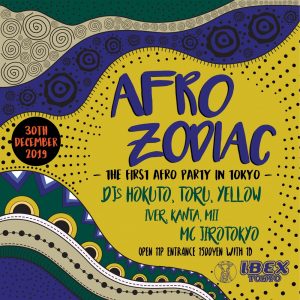 ♦♦♦AFRO ZODIAC♦♦♦
Year End Party!!
The First Afro Party In Tokyo!!
Mark Your Calendar for The Best Afro Music Night In Tokyo.
This is The Party you all Don't Need to Miss! 💯% guaranteed fun!!!
▪December 30th Monday
▪Open: 23:00~
▪Entrance: ¥1,500/1Drink
▪Djs: HOKUTO / TORU / YELLOW /
             IVER / KANTA and more……
👇♦♦♦♦♦IBEX TOKYO♦♦♦♦♦👇
👉web: www.ibex-tokyo.net
👉Tel: +81337461075
👉mail: info@ibex-tokyo.net
👉Add: 21Taimei bldg minato-ku roppongi 3-11-6 Tokyo.
👉Facebook: IBEX-TOKYO
👉Instagram: IbexTokyo_Official
👉twitter: @IBEX_TOKYO